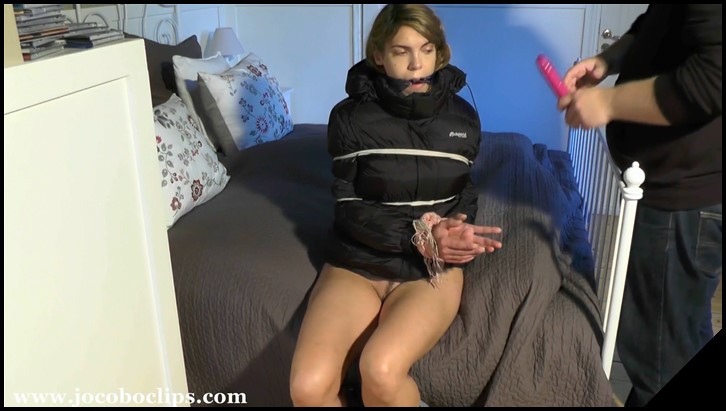 Winter Jacket Bondage Part 2
Juliette prepares herself for a walk. It's cold outside. That's why she puts on winter boots and a black down jacket and also gloves. Now she is ready and goes to the door.
But suddenly a man rushes in and cuffs her hands in front and because Juliette protests to much he gags her with a ballgag. He pushes her to the bed and takes off the handcuffs. Juliette tries to run away but the man captures her again and Juliette has to sit on the bed. The guy takes tape and tapes her upperbody, her wrists and elbows. He also tapes her knees. He leaves her for a while and he says to her to stay. Juliette moans and struggles but the tape is tied strong. But after a while Juliette realises that her ankles are not tied together. So she stands up and goes with very small steps to the door. But Juliette is to slowly. As she goes out of the door the man catches her again and pushes her on the bed.
Next we see is Juliette sitting on the bed. She is still wearing the down jacket and the boots.
The man comes in and commands her to stand up. He ties her wrists with a scarf in front of her. Then he takes a silk scarf and gags her mouth. He takes a rope and ties her elbows strong together. Juliette moans a lot because it hurts. He takes more rope and ties again her upperbody. He touches her body and suddenly he pulls down her jeans and slip.
He swears to let her go after she had an orgasm. He will watching her while she fucks herself with a vibrator. She takes the vibrator and pushes it into her pussy and fucks herself until she has a great orgasm.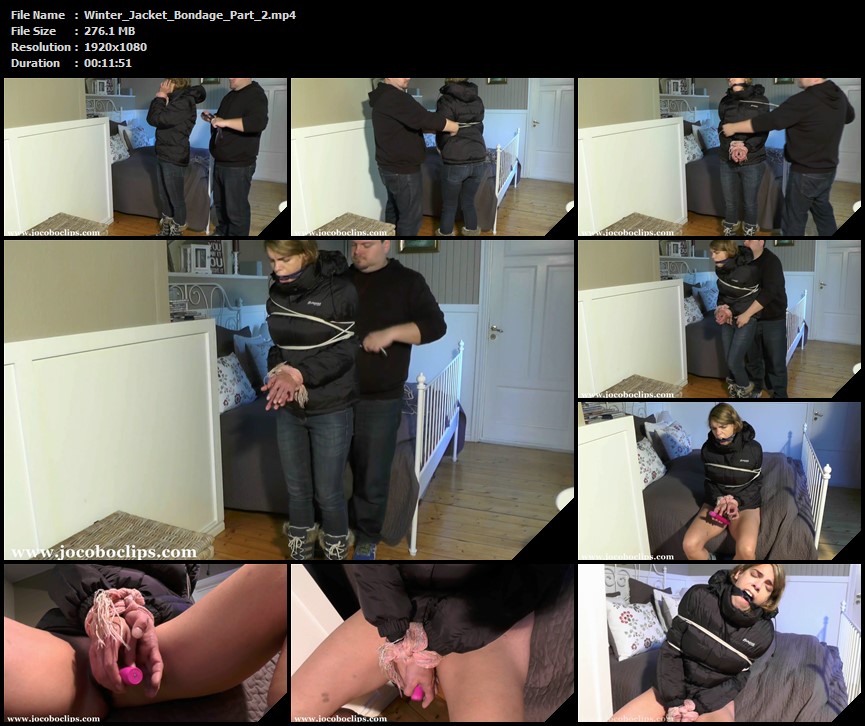 Clip name: Winter_Jacket_Bondage_Part_2.mp4
Clip size: 276.101 MB
Format: mp4
Resolution: 1920×1080
Duration: 00:11:51
Link (K2S/Fboom):
Winter_Jacket_Bondage_Part_2.mp4