War Pigs 2.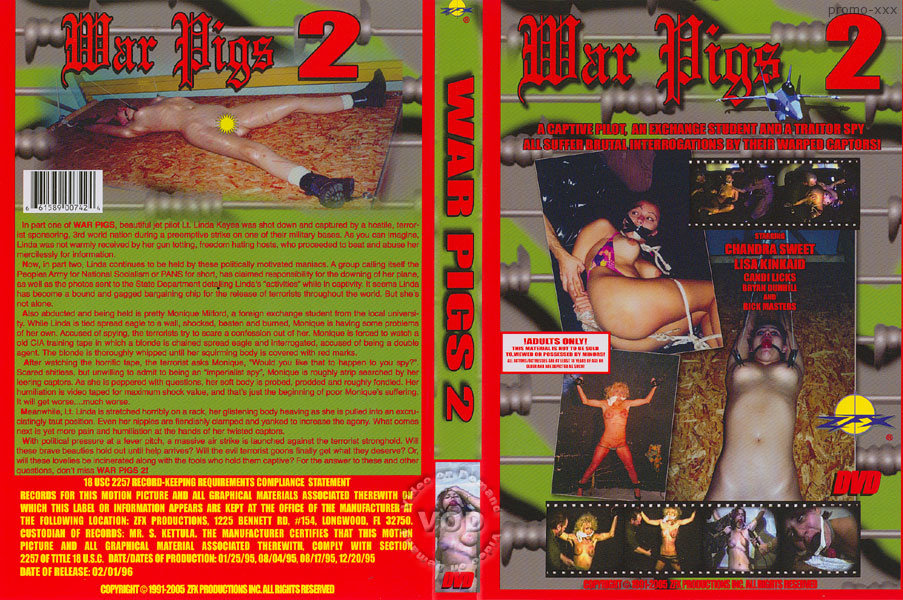 Now, in Part Two, Linda continues to be the hostage of politically motivated maniacs.
A group calling itself P.A.N.S., or People's Army for National Socialism, has claimed responsibility for the downing of her plane,
as well as the photos sent to the State Dept. detailing Linda's activities while in captivity.
It seems Linda has become a bound-and-gagged bargaining chip for the release of terrorists throughout the world,
along with pretty Monique Milford, as the American exchange student from the local university also being held by the terrorists.
While Linda is tied spread-eagle to a wall, shocked, beaten, burned, her welted body excruciatingly stretched on the rack, Monique, is having some troubles of her own.
Accused of spying, the terrorists try to scare a confession out of her.
Monique is forced to watch a dirty video tape of a beautiful blonde being whipped till her squirming body is covered with a criss-cross of angry red marks.
After watching the horrific tape, the terrorist asks Monique "Would you like that to happen to you, spy?"
Scared shitless, but unwilling to admit to being an "important spy," Monique is roughly strip searched, probed, prodded,
and then savaged by her leering captors, her humiliation carefully photographed for maximum shock value.
And that's just the beginning of poor Monique's suffering. It will get much worse.
With political pressure at a fever pitch, America launches a massive airstrike against the terrorists' stronghold.
Will these sweet American beauties hold out till help arrives? Will the evil terrorist goons finally get what they deserve?
Or will these lovelies be incinerated along with the fools who hold them captive?
For the answer to these and other questions, don't miss the exciting conclusion of War Pigs Part 2: Prisoner of War.
Clip name: War_Pigs_2.wmv
Clip size: 735 MB
Link :
War_Pigs_2.wmv