Subject 9.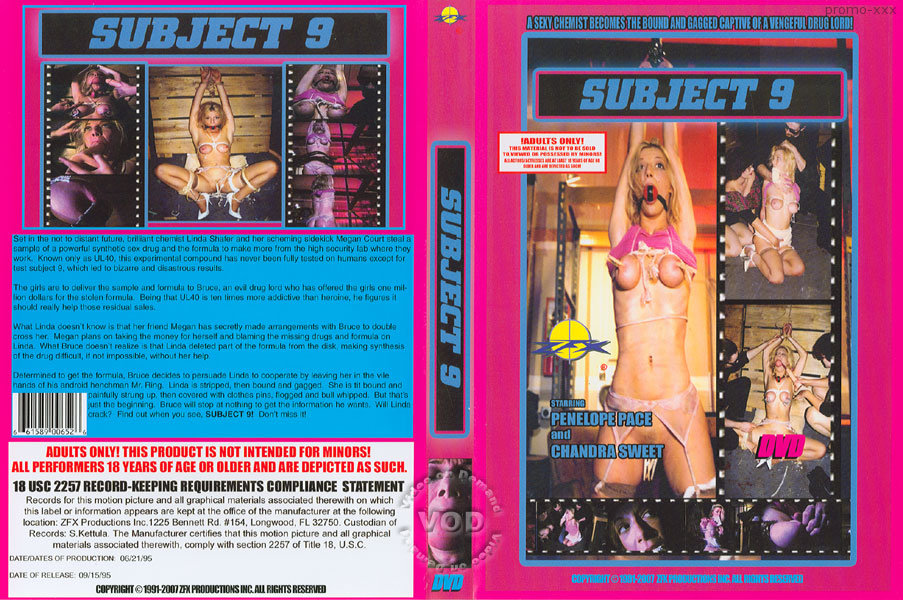 Stars: Chandra Sweet, Penelope Pace, Bryan Dunhill Rick Masters
Brilliant chemist Linda Shafer, and her scheming sidekick, Megan Court, steal a sample of a powerful new synthetic sex drug and the formula to make more from the high security lab where they work.
Known only as UL40, this experimental compound has never been fully tested on humans except for test subject 9, which led to bizarre and disastrous results.
The girls are to deliver the sample and formula to Bruce, an evil drug lord who has offered the girls one million dollars for the stolen formula.
Being that UL40 is ten times more addictive than heroine, he figures it should really help those residual sales.
What Linda doesn't know is that her friend Megan has secretly mad arrangement with Bruce to double-cross her.
Megan plans on taking the money for herself and blaming the missing drugs and formula on Linda.
What Bruce doesn't realize is that Linda deleted part of the formula from the disc, making synthesis of the drug difficult, if not impossible, without her help.
Clip name: Subject_9.wmv
Clip size: 553 MB
Link :
Subject_9.wmv