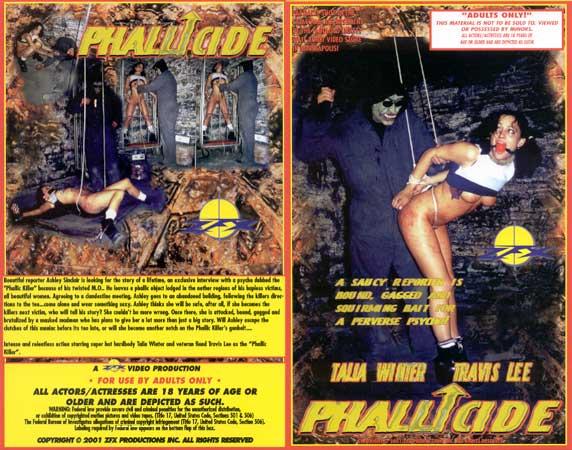 ZFX's latest release in 2001 is a video called Phallicide, which sets up its one threadbare story in the first few minutes, then follows it up with a series of bondage and torture scenes until the story kicks in again during the last few minutes.
As the story begins, a young reporter is traveling out to an abandoned building to interview a serial rapist/killer, dubbed the "Phallic Killer" for his trademark of leaving a phallic object lodged in the asses of all his victims, those being pretty, young women. Seeing that the reporter is herself a pretty, young woman, and that the killer has requested she come alone, and wear something sexy, it doesn't take a great guessing game to figure out what's going to happen to her once she reaches that building.
The reporter is played by ZFX newcomer Talia Winter, a pigtailed brunette with a nice body, and the Phallic Killer is Travis Lee, veteran of several fine ZFX features, most notably as Otis in the "Night Prowler" series. Here he is totally unrecognizable in a rubber Halloween mask, and says not a single word throughout the entire video. The only way I could tell it was him? His name was in the credits.
Anyway, Talia is predictably grabbed by Lee (Stupid bitch What did she think would happen?), who sneaks up from behind to slap on the handcuffs, then gags her with a stocking that he also wraps around her neck to choke her into submission. He pulls up her top and fondles the now unconscious girl before preparing for the good stuff.
Clip name: ZFX.Phallicide.avi
Clip size: 294.2 MB
Link :
ZFX_Phallicide.avi