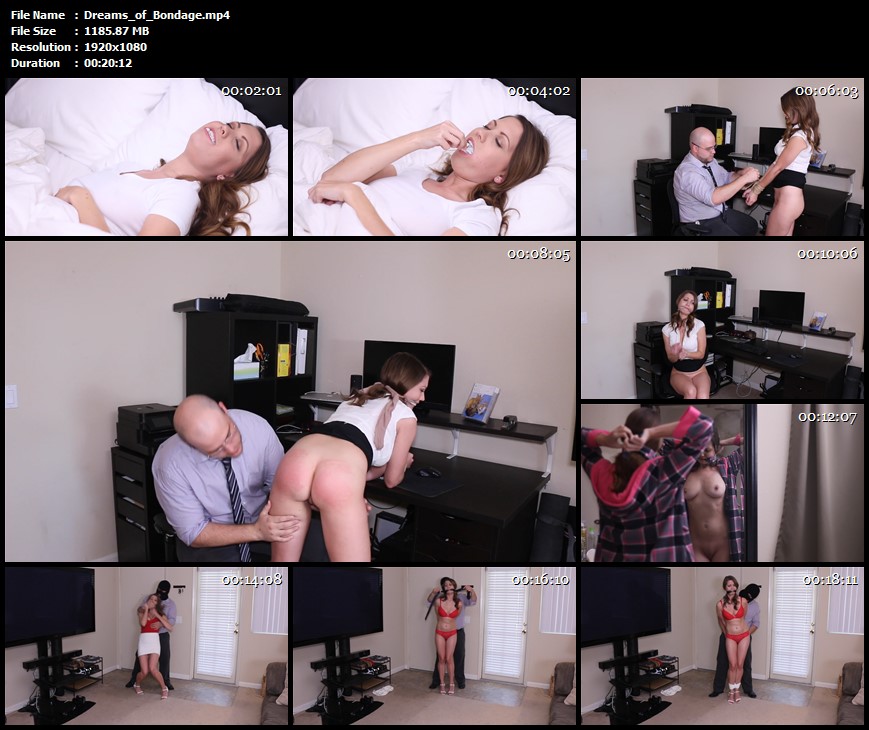 Dreams of Bondage
20:13 video
Chrissy is on the phone with her friend telling her she cant go out tonight because she already has plans. She hangs up and gets under the covers and starts pleasuring herself. She starts to thinks she is making too much noise, so she gets and idea and takes off her panties and stuffs them in her mouth to muffle her sexy moans. She continues pleasuring herself but decides she is still too loud and needs to make the gag more effective, so she grabs a scarf from nearby and cleave gags herself with, and keeps going until she finishes relieving herself. She takes out the gag and goes to sleep.
After she falls asleep Chrissy starts to dream about bondage. In her dream she is secretary who hasnt been doing a good job and is called into the bosss office for discipline. She tries to explain herself but the boss tells her she has to be punished, and orders her to remove her pantyhose. Then he takes them and cleave gags her with them! He ties her hands in front then bends her over and gives her a hard spanking, first with his hand and then with his belt, leaving her on the verge of tears! After he is finished he leaves her to struggle and mmmphh and make sure she learned her lesson!
Chrissy wakes up from her dream and puts on her bathrobe. She starts putting lotion on her legs and checking herself out in the mirror. She is thinking about the dream she just had and starts to feel turned on. She wants to role play but there is no one around, so she has to improvise, so she looks in the mirror and pretends someone broke in and is tying her up. She takes off her bathrobe belt and tightly cleave gags herself with it. Then she puts her hands behind her back and struggle ands mmphhs in her bonds then begins pleasuring herself. She hand gags herself as she finishes, and then goes back to bed.
Chrissy starts dreaming about bondage again, this time she is coming home from work when a robber hand gags her from behind, then forces her to strip down to her underwear! He ties her up and cleave gags her with his tie, groping and fondling her while she mmpphs and struggles. Then he leaves her helplessly bound and gagged for the remainder of her sexy bondage dream!
Clip name: Dreams_of_Bondage.mp4
Clip size: 1185.87 MB
Format: mp4
Resolution: 1920×1080
Duration: 00:20:12
Link (K2S/Fboom):
Dreams_of_Bondage.mp4