by bddladm on 29. Apr, 2016 in Ivanboulder bondage RIP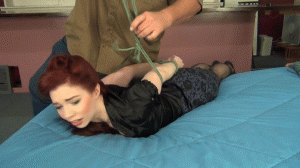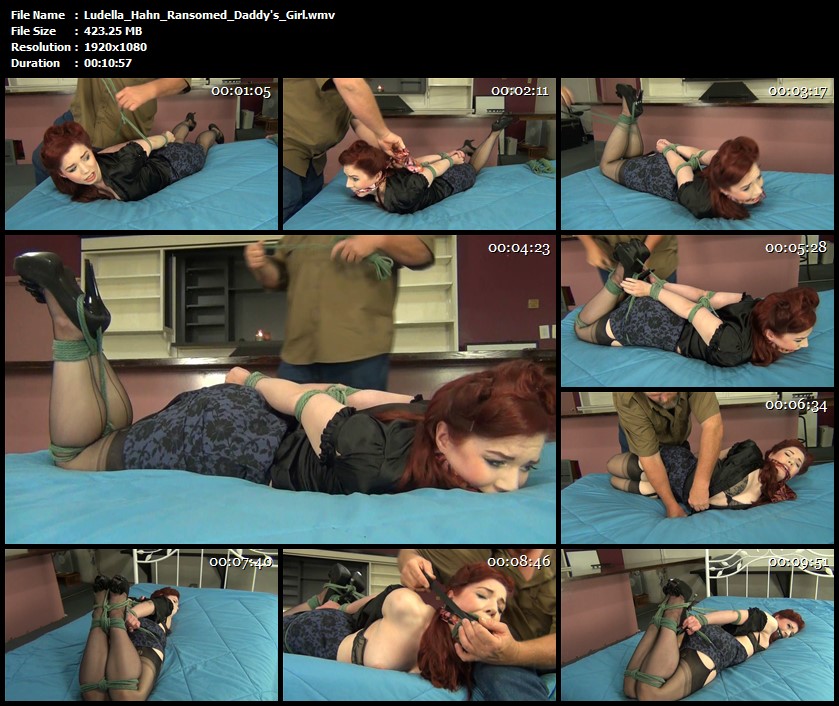 If Ludella is lucky, her father won?t take too long to get ahold of the money Ivan is asking for her, but it is a large sum, and it won?t be quick. Until then, Ludella is stuck on this bed. Since Ivan can?t watch her sexy ass all day, he has to ensure her safety with a little rope ? well, a lot of rope. Her wrists and her elbows are tied behind her back, then a silk scarf fitted between her teeth to remind her to be quiet ? though it doesn?t seem to work too well, since she still tries to talk through it, only less intelligibly than before. Her slim ankles are next, then just below her knees, above those shapely calves. As hot as Ludella is naturally, she is even hotter with Ivan?s rope on her. It gives him other ideas ? if her daddy won?t pay, Ivan is sure he can get good money for such a sultry little minx like Ludella; curvy redheads are always popular in foreign markets. But Ivan did his research, and he?s pretty confident daddy will pay whatever ransom he asks for lovely Ludella. Ivan adds another rope so Ludella really can?t move beyond minor squirming, pulling her into a tight little hogtie, showing off those fabulous legs and gorgeous round ass. To make the pictures for her daddy even more effective, Ivan unbuttons Ludella?s shiny black blouse, then pulls one strap of her bra off her shoulder to give that nice disheveled look.
As soon as Ivan steps away, Ludella starts crying for help, but the only one around to hear her is Ivan, and he quickly tires of her noise. A wad of cloth and some electrical tape quiet her down, but even more effective are his threats to handle the goods more than he should if she doesn?t quiet down, squeezing her nipples, smacking her ass, and fondling her legs. If she?s quiet, Ivan will leave her alone, but if she makes noise, he?ll come back and mess with that fine little body she has. Ivan goes to make the call to Ludella?s father, and she can only whimper in his absence. Instead she takes the time to strain against the rope and try to find a knot, but luckily for her, Daddy paid up quickly. Now Ivan gets to throw Ludella over his shoulder, take her out to the truck, and drive her to a warehouse for Daddy to find her. Maybe in a few years, he?ll do this again? Ludella was such a pleasure to ? and so lucrative.
Clip name: Ludella_Hahn_Ransomed_Daddy's_Girl.wmv
Clip size: 423.245 MB
Format: wmv
Resolution: 1920×1080
Duration: 00:10:57
Link (TezFiles):
Ludella_Hahn_Ransomed_Daddy's_Girl.wmv
Last Updates