by bddladm on 29. Apr, 2016 in Ivanboulder bondage RIP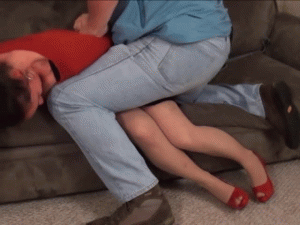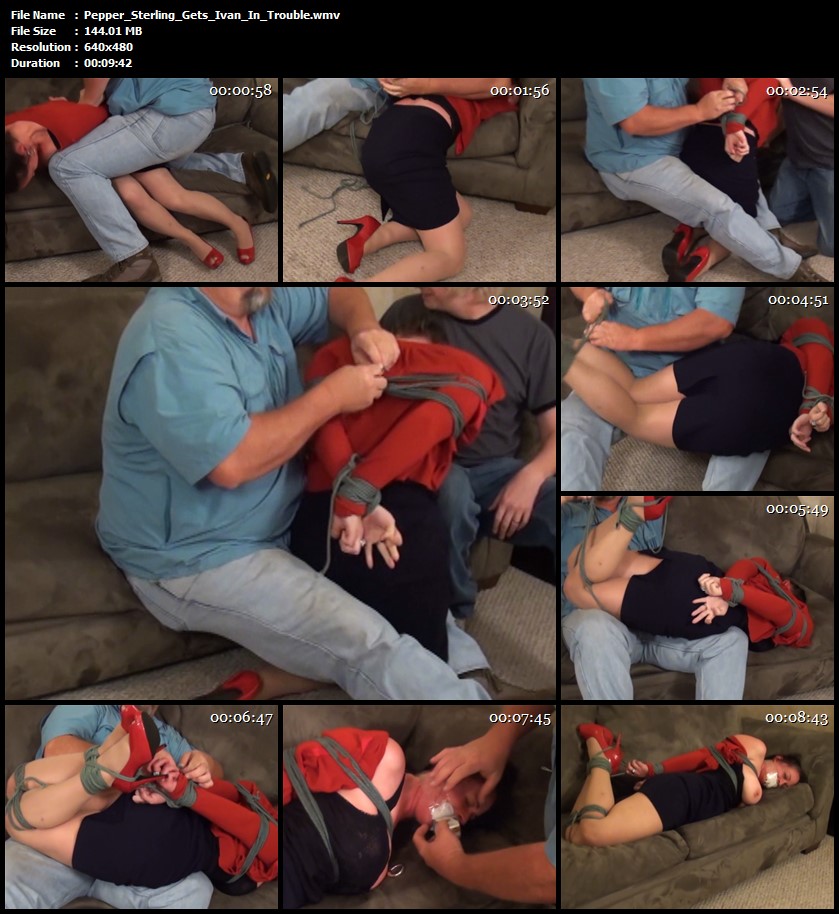 Normally Ivan's job goes pretty smoothly, no problems, the girl gets tied up without a hitch, and in 15 minutes or less, they're gone without a trace.
But then there's Pepper. Great legs, nice long hair, fabulous tits… and a lot of unexpected fight. Ivan can't seem to get his rope on this girl – she keeps turning her wrist a certain way, slipping out of his grip. Granted, he likes a good fight, loves a feisty chick, but this one is starting to get on his nerves.
Especially when his boss, David, comes in after him to find out what's taking him so damn long. He has the van sitting out on the street, running and wasting gas. Doesn't Ivan know how expensive gas is these days? Maybe he's losing his touch when it comes to tying feisty bitches up. It seems like he needs David's help with this one, so David grabs and holds her while Ivan finally gets his rope secured around Pepper's wrists. Ivan ties a chest harness around her arms and full bust to make it even harder for her to get loose. Now that Ivan seems to have her under control, David goes back to drive the van around the block to avoid suspicion. Maybe Ivan will actually have her taken care of when he gets back.
Pepper toned down the struggling while David was holding her – no point wasting energy fighting two guys at once – but as soon as David walks out the door and Ivan goes for her ankles, she starts up again. Luckily, her wrists and elbows being tied makes it difficult for her to get much leverage, so Ivan still manages to get her ankles tied while bitching about how she got him in trouble with his boss – now David thinks he can't do his job! He is not happy with Pepper. While he's ranting, Pepper tries to discretely pull the loose end she can feel dangling against her fingertips, but Ivan notices as soon as he knots her ankles, and snatches the rope out of her hands, tying it extra tight and secure just in case she tries that again. "Nice try, bitch." He starts another rope around her knees, but her squirming keeps tangling his rope, and he has to straighten it out before he can wrap it tight above her thick calves. If this vixen would just cooperate a little more, they could have been done and gone by now! He finally ties her ankles to her wrists, then gets up to get the gag material he brought just for her. When Pepper sees what's in his hand and figures out what it's for, she buries her face in the couch cushion, but at this point Ivan's tired of her shit, and just grabs her by the hair, yanks her head back, and crams the white cloth into her mouth, wrapping the clear tape around her head several times for good measure.
Finally! A little peace and quiet. Ivan wants one more little bit of vengeance on this chick before he goes to check if David is back yet – he rolls her onto her side and pulls her boobs out of her top. What a view! She has great tits, and piercings too!
Ivan can see David through the window, and motions him in to see the sights. David seems pleased with Ivan's latest acquisition, with her tight ass, long shapely legs, big boobs, and pretty hair – she should fetch a fair price, after they break that attitude a bit. But the van is all ready for her, the box prepped – completely with air holes this time – all they need is for Ivan to heave those big tits over his shoulder and carry her out!
Clip name: Pepper_Sterling_Gets_Ivan_In_Trouble.wmv
Clip size: 144.013 MB
Format: wmv
Resolution: 640×480
Duration: 00:09:42
Link (TezFiles):
Pepper_Sterling_Gets_Ivan_In_Trouble.wmv
Last Updates