by bddladm on 29. Apr, 2016 in Ivanboulder bondage RIP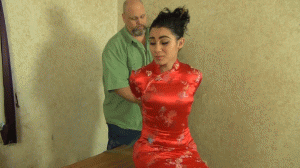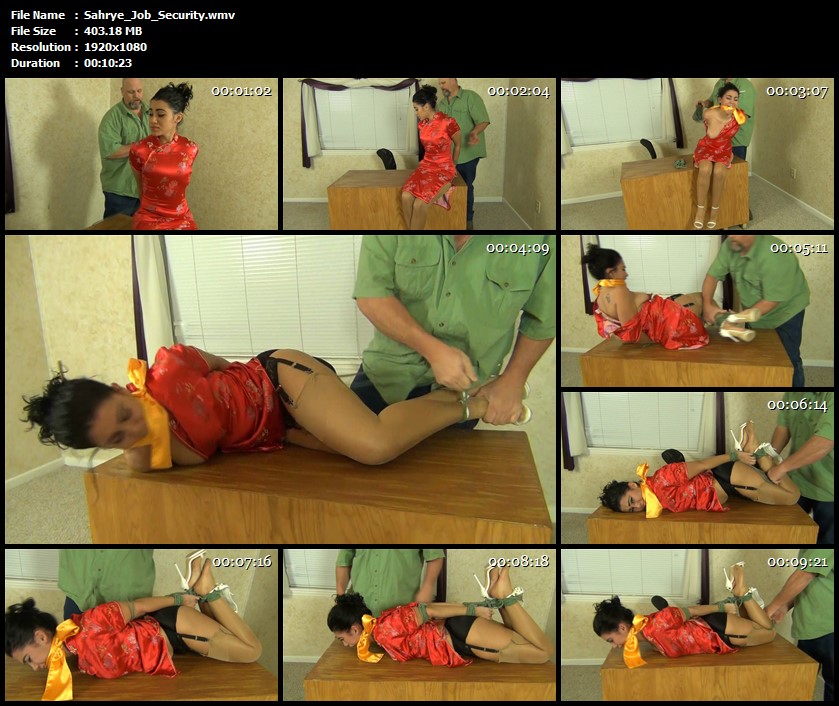 The job description at the temp agency was a little odd, with dress and appearance requirements in addition to the usual, but it was hard to resist the lure of such high pay for a secretary-type job, as Mr. Boulder?s personal assistant. Sahrye figures that if the interview is too weird, she just won?t accept the job. When Sahrye gets to the interview, Mr. Boulder explains the responsibilities: all the usual personal assistant elements, like making appointments and answering the phone; dressing in an attractive way, like the Asian style dress, garter and stockings, and high heels he requested for today; and one little detail not mentioned by the temp agency: being tied up. Mr. Boulder explains that he enjoys looking at tied up women, especially in outfits like the one she has on today, and it?s part of how he relaxes. Sahrye isn?t quite sure how she feels about this, but as long as it?s just a little rope and no touching or anything, it might be okay – it does explain why the compensation was a tad high. Mr. Boulder demonstrates by tying her hands behind her back, just to give her a taste of what it would be like, though she thinks the rope is particularly tight, especially for her first time, but he says it doesn?t look right if it?s not tight.
If this is all there is to it, then the job probably is worth the money, though it?s pretty weird. But Sahrye quickly finds out that Mr. Boulder has more in mind for her than she originally bargained for; as soon as he has her hands tied and pulls out more rope for tying her legs, he unbuttons the neck of her dress, and despite her objections and attempts to prevent him, he unzips the side of her dress, exposing a beautiful breast, which really starts her yelling and squealing. Ivan covers her mouth with a big hand while he opens a drawer and pulls out a long gold cloth to wrap around Sahrye?s head and into her mouth, quieting her shrieks. He has decided that she has the job, whether she wants it or not. Mild-mannered Sahrye practically turns into a wild when Ivan continues to tie her, kicking and twisting and doing everything she can to prevent Ivan from tying her up. But this isn?t his first rodeo, and he manages to tie her ankles and put her in a hogtie relatively quickly, thoroughly enjoying her feistiness and sass, even though it causes her to put a run in those sexy shiny stockings. She?s hot and fun enough that he thinks maybe he?ll find another personal assistant, and make Sahrye his personal play-toy instead. Time for her to go home with him for a more thorough ?interview? there.
Clip name: Sahrye_Job_Security.wmv
Clip size: 403.177 MB
Format: wmv
Resolution: 1920×1080
Duration: 00:10:23
Link (TezFiles):
Sahrye_Job_Security.wmv
Last Updates