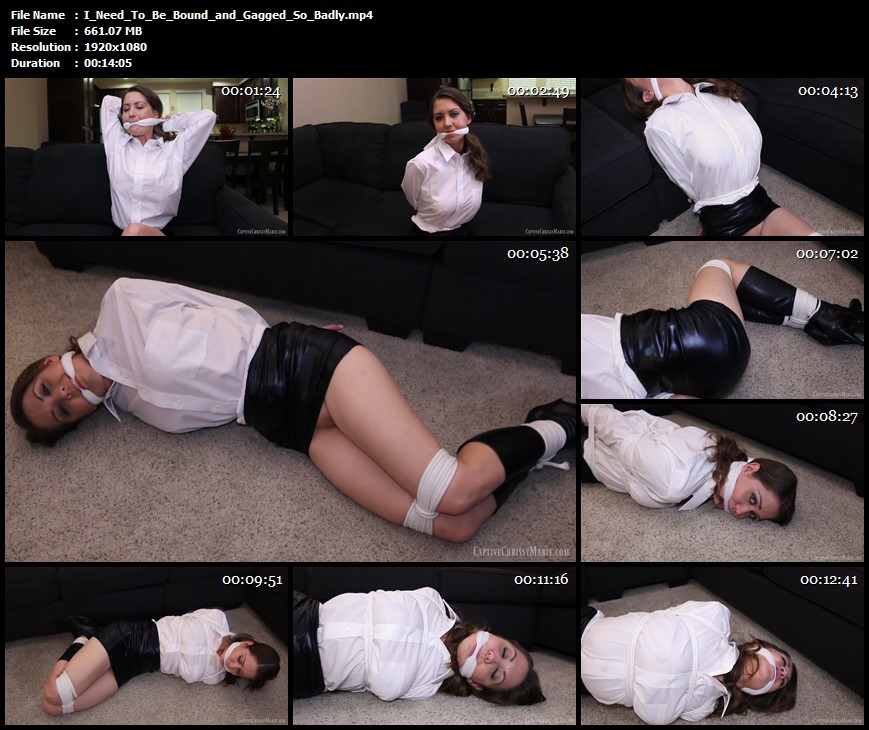 I Need To Be Bound & Gagged So Badly!
14:06 video
We see Chrissy sitting on the couch wearing a short skirt, white dress shirt and high heel leather boots, her sexy legs crossed as she pleads with you… "I really, really need to be bound and gagged by you so badly, I just love it so so much!"she says. "I'll just gag myself and hope you'll tie me up and let me squirm all bound and gagged!" She stuffs a piece of white cloth in your mouth as she tries to seduce you into tying her up. Then she cleave gags herself tightly between her teeth and now your ready to give her what she wants so badly!
The video fades back in and Chrissy is all tied up with rope, ankles and knees bound together very tight, and her crossed wrists tied and secured to a rope around her waist! She is tied so tight that there is no possibility of her getting loose by herself, and she loves it! She squirms and struggles in her bondage, moaning and mmpphhing through her gag as she gets pleasure from her helplessly bound and gagged predicament! As her sexy skirt rides up we start to discover that Chrissy must have been feeling extra naughty today since she isn't wearing any panties!
In the last part Chrissy had had extra ropes added around her breasts and she's been bound into a very strict hogtie! An extra piece of white cloth has been tied even tighter over her previous gag! Chrissy is enjoying this so very much and starts struggling like crazy and making lots of noise, "trying" to get loose though in reality she knows she cannot! At the very end a voice says "I'll never let you go, you'll stay tied up and gagged all the time". We see Chrissy smile with huge satisfaction and with her extra tight double cleave gag "hmmmmmmmm" is all she can "say"!
Clip name: I_Need_To_Be_Bound_and_Gagged_So_Badly.mp4
Clip size: 661.068 MB
Format: mp4
Resolution: 1920×1080
Duration: 00:14:05
Link (K2S/Fboom):
I_Need_To_Be_Bound_and_Gagged_So_Badly.mp4